If you're looking to update your wardrobe and/or shoe collection at the moment, please don't overlook
Dorothy Perkins!
Dorothy Perkins has quickly become my first port of call when frantically searching for a new outfit. Their shoe collection is on fire right now, and they're all reasonably priced. They also offer student discount with a valid student or NUS card and accept UNiDAYS codes online. However, if you aren't a student, you can keep your eyes peeled, since Dorothy Perkins often have 20-30% off promotions in-store and online. So, following a splurge at the Tottenham Court Road/New Oxford Street branch the other day, here's what I managed to get my hands on:
I love this jumpsuit so much! The RRP is £38, however (as mentioned above) I managed to grab it whilst it was on promo at £31. At the time of this post, It is currently on promotion at £28. I have never owned or worn a jumpsuit before. I am 5'5 and a size 12-14, and they never seem to flatter my figure since I have large hips. The vertical stripes on this jumpsuit almost create an optical illusion in that they make me look a little taller and a little more slender! The fabric is really soft and clings to all the right places rather than all the wrong ones! It nips in at the waist and looks cute tied in a bow, yet it is slightly more baggy around the stomach area. All in all, I cannot fault this item! It also comes in black crepe, which I came close to buying.
I originally picked up some high coral courts to go with this jumpsuit, on the advice of the sales assistant helping me. However, once I got them home, I really wasn't sure on the colour and they were also really uncomfy! I hate synthetic shoes; they really just weren't for me. I popped back into store and saw these cute red heels. I've never owned a pair of slingbacks before, and was a bit dubious. But they are so comfortable and I absolutely love the colour!
Obviously I had to match my shoes to my bag, and I saw this on the shelf and loved it! This cute little bag could be used as a boxy clutch, but comes with a strap inside, which is how I would choose to wear it. The RRP is £12, which is a bargain! However, I got it for £9.60 on promotion. It comes in duck egg blue and orange as well; I really wanted them all! It's as close a match as I could find for the heels. I never particularly worry if the shades i'm trying to match up don't go perfectly. Unless you're buying all your accessories from the same brand and collection, it's probably never going to be perfect. Besides, nobody sees them as close together as you do when you have your outfit laid out.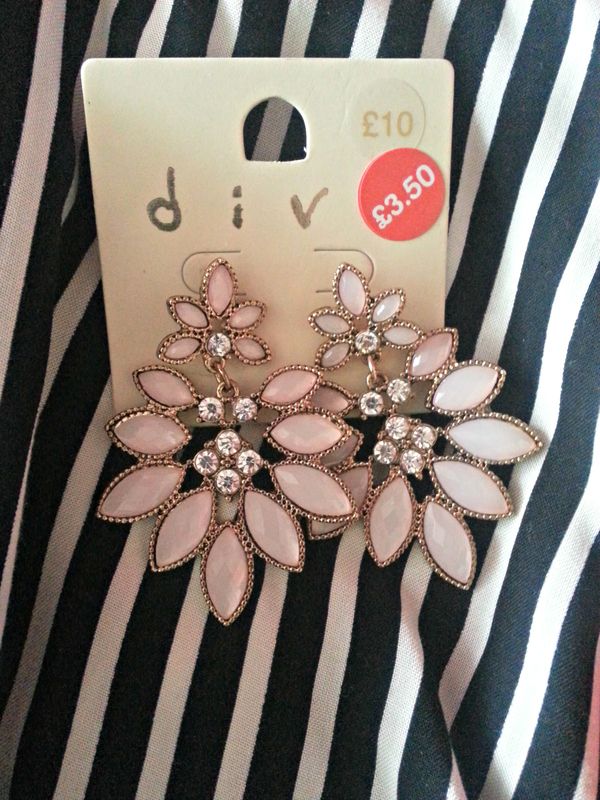 I bought these from my local Miss Selfridge as a last minute addition to this outfit. I knew I needed some statement earrings, as the high neckline and pattern of the jumpsuit doesn't really allow for a statement necklace without the whole thing looking too cluttered. Since I have gone for bright, contrasting accessories, I wanted some more neutral earrings, and these were an obvious choice. I have seen these before in the Diva collection, but didn't really want to spend £10 on them without an occasion in mind. The sale price was much more attractive to me!
So there you have it, just one outfit that I have bought recently from Dorothy Perkins. Definitely check out the s/s15 shoe range!
Does anyone else just adore DP?! Let me know guys!